Travel to Lithuania on the Curonian Spit
Join us for our comfortable apartments and hotels in Nida - including arrival and transfer service.
One of the biggest attractions of the spit was certainly Nida, the heart of the lagoon, with its up to 60 meters high dunes that extend up in the Russian part of the Spit. The old fishing houses of the village in the typical colors of cobalt blue, titanium white and iron red with their colorful wild flower gardens have always enjoyed in the day-trippers and weekenders outspoken popularity.
For BALTIC TRAVEL is the Curonian Spit and the known beyond the borders Nida - the focus of our listings.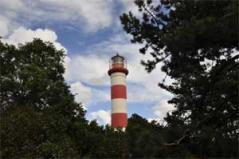 We owe this to our two cottages "Artas" and "Aika" in Nida / Nida, which travelers like to visit again and again. In the guest house "Aika" Baltic Travel organizes many cultural events, music evenings and art exhibitions.
During your stay on the Curonian Spit, you should also take time for a couple of trips. For example, to Kaliningrad / Königsberg, the capital of Vilnius, Klaipeda / Memel or the Memel. . If you wish, we can arrange trips in addition to the arrival and departure on the Curonian Spit.
In June 2008, Baltic Travel started to organize a great bike tour which we still do, year by year, twice a year. Here the first report: once by bike to the Curonian Lagoon in five days!
The Curonian Spit is unique. Refer to holiday greetings from the year 1933. Unique to extend from south to north, surrounded by water on the east and west side and pampered by the sunshine. In this landscape already tried the painter Max Pechstein in 1911 in Nida, man and nature in his paintings capture "in-one". The Curonian Spit was set in 2000 on the "World Heritage List" of UNESCO, as a model of human efforts to keep our vulnerable landscapes and as evidence that human creativity and nature are mutually consistent.
Check out our Photo Gallery - Natural landscape of Curonian Spit to get an impression.
Nida / Nida and the Spit have a long and exciting trip holiday tradition. The original brochure from 1936: the Curonian Spit takes you into the wonderful history of this region, as it was there before. To date, however, remains Thomas Mann, in Lithuanian: Thomanas Manna, the outstanding personality of the many famous guests who stayed at the Spit. He spent four summers in Nida, including three from 1930-32 in his own summer house.
He let it build by the money he received for the Nobel Prize, in the typical style of Nida - Hiddensee was occupied, there resided before his little beloved colleague, the poet laureate Gerhard Hauptmann. Thomas Mann had leased the charming town square for 99 years. His name is still in the land register of the land cadastre in Klaipeda.