Apartment hotel and cottage on the Curonian Spit in Nida
We are particularly proud of our two cottages "Artas" and "Aika" in Nida / Nida, which have in recent years become a well patronized attraction of the place, thanks to the cultural events, Baltic Travel offers, such as Music evenings and art exhibitions.
The following accommodation (property of BALTIC TRAVEL) on the Curonian Spit which we can highly recommend:
Guest house "Aika" - Pamario 19, Nida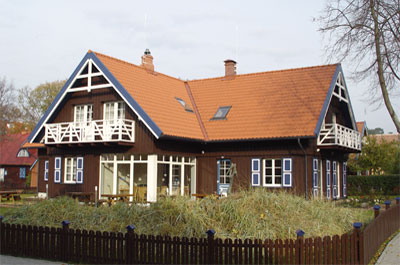 Our cottage was built in 2005 in the typical Nida house style and in accordance with the form prescribed by the UNESCO Guidelines for the Curonian Spit.
The cottage has a cafe with a gallery located on the ground floor with paintings and photographs of Lithuanian and German artists.
The house has 4 apartments each with 2 bedrooms with double beds, a large balcony and a kitchen-dining room and 3 bedrooms each with a double bed and bathroom.
(All accomodation offered are the property of BALTIC TRAVEL)
prices >>>
Description >>>
Location >>>

Guest house "Artas" Kopu 13-3, Nida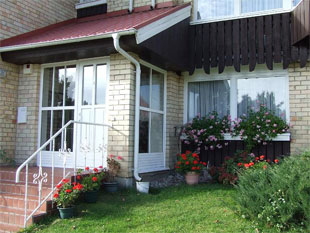 Our House "Artas" is located in the south of Nida. It can be senn from the high dune.
It is very quiet, surrounded by small gardens and lots of pine trees. This house is for max. 7 persons.
It is a mid-terrace house with a large terrace to the southwest. You will discover many interesting little things in the house.
prices >>>
Description >>>
Location >>>
Hotel "Jurate." - Pamario g 3, Nida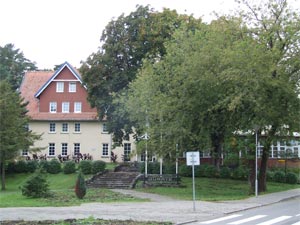 The hotel "Jurate" is located on the site of the former "Queen Louise" hotels, the Old Post Court. Today it is one of the most beautiful and most visited tourist attractions.
It is located in the city center next to the Curonian Lagoon and just in the neighborhood of our house "Aika".
The hotel, with 200 seats, mostly double room, open all year round, conference hall, restaurant, sauna, massage room, bike rental ...