Hotel "Aika" Lithuania Curonian Spit Nida
Preise, EURO pro Tag
"AIKA"

Mai - 15. Juni
16. Sept. - 15. Okt.

16. Juni - 15. Sept.
übrige Zeit
DZ (2 Personen)
55,00 EUR
60,00 EUR
38,00 EUR
Appartement (4 Personen)
90,00 EUR
105,00 EUR
58,00 EUR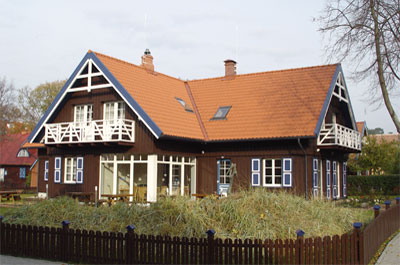 In the house there is a gallery of images of known Lithuanian and German artists. It has a cafe with fireplace and summer terrace for residents who are cared for by "Irmgard", a Memelländerin. Upstairs there are 3 apartments with 2 separate bedrooms with double beds, a large balcony and a kitchen with a dining area and a bathroom.
There are also 2-bedroom apartments, each with a double bed and bathroom. On the ground floor there is an apartment with 2 double bedrooms, a kitchen with dining area, and a bathroom. It has a separate entrance and private garden terrace.
Breakfast is served at Cafe according to your wishes and consultation with "Irmgard", the supervisor of the house for appr.5 Euros. You pay locally to Irmgard for breakfast. The rooms in the cottage are tastefully decorated with light birch furniture. A car park is located on the property. See the small GALLERY >>>
Ground floor plan >>>
Upper floor plan >>>
Location of the guesthouse AIKA
The house is located in the historic center of Nida, near the former hotel "Queen Louise", about 150 meters from the lagoon, diagonally opposite the Amber Museum.
The address is Nida, Pamario 19th
Größere Kartenansicht